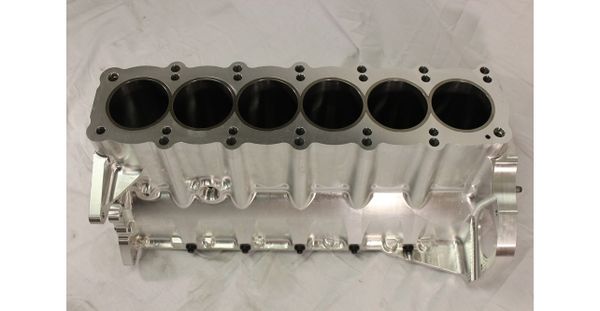 Mazworx Billet 2JZ Block
It features the following:

- Made from 6061-T6 Aluminum
- Deck height can be raised up to +.400"
- Uses 1/2" Head Studs and Main Studs. Optional 9/16"-1/2" Head Studs.
- Tunnel will clear a 94mm stroke with aluminum rods
- Connection between the head stud and main stud stronger
- No water jackets keep the cylinder rounder
- -12an main Oil Inlet
- Single Turbo Oil Feed
- Main Caps are either 7075-T6 Aluminum or 4340 Chrome-moly (low profile)
- 4 Bolt Mains on caps 2, 3, 4, 5, 6
- Caps can be individually taken out for easier maintenance at the track
- Uses Darton Sleeves already installed, bored/honed.
We recommend using the aluminum main caps. They are taller to handle the load and absorb impact better. If you plan to use a thin oil pan such as the OEM one, the go with the chrome-moly caps. They are small just like the OEM ones.
The block comes ready to assemble with the main caps and main stud kit.
Weight of block with aluminum caps and studs is 
8
5
 lbs.
These are made to order , Generally ships 4-6 weeks after purchase