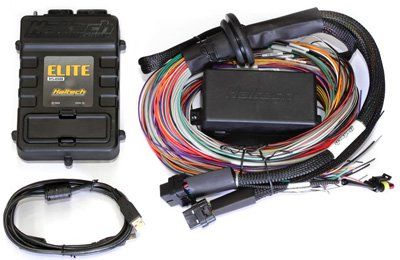 Haltech Elite 2000
Elite 2000
Option 1 (please choose from drop down menu above)
- 2.5m (8 ft)
Premium Universal Wire-in Harness Kit
Includes firewall grommet, moulded 6 power circuit Haltech fuse box & lid. Includes 4 relays & 7 fuses.
(includes pins for the 2 spare power circuits, USB Software Key and USB programming cable)
Option 2 (please choose from drop down menu above)
8ft Basic Wiring Harness .
FEATURES
• 8 x Fuel Injection Outputs
• 8 x Ignition Outputs
• 12 x Digital Outputs
• 10 x Analogue Voltage Inputs
• 4 x Synchronised Pulsed Inputs
• 4 x Dedicated Inputs (Dual Knock, ignition Switch & Internal MAP Sensor)
• 2 x Dedicated Engine Position Inputs with extensive trigger type support
• USB Laptop Communications
• Programmable Injector Peak and Hold Currents
• ESP Calibration Software – Intuitive and easy to use
• Dual CAN Bus communication for OBDII and Haltech CAN Expansion
• OBDII Compatible – Set and clear diagnostic trouble codes, view live engine data
• Variable cam control – Independently control up to 2 Intake camshafts
• Short and Long term fuel, cam, boost and idle control learning
• Dual Channel Knock Control – with high speed digital filtering for accurate detection
• Multi-fuel Support – Support for Petrol (Gasoline),LPG, Methanol and Ethanol
• E85 Flex Fuel Ready – Direct connection to sensor
• Closed Loop 3D Boost Control – Multiple Modes – Tune by gear, wheel speed or time
• Nitrous Control – Wet, Dry or progressive with 3D Fuel and ignition corrections & On/off delays
• Closed Loop Idle Control – With learning for consistent idle stability
• Closed Loop 02 Control – Dual bank control
(with optional external CAN O2 Wideband Controller Kit)
• Anti-Lag/rotational idle and Launch Control – Drag and Rally modes
• Rolling Anti-Lag – Fixed or current, RPM or road speed
• Flat Shift function
• Data logging 1 MB internal memory – Up to 20 channels of logging.
Sampling rates up to 50ms (20Hz) & external laptop logging using available hard drive memory
• Engine Protection – Set limits for sensors and protect your engine
• Internal 3 Bar MAP Sensor (29 psi max boost)
SPECIFICATIONS
Fuel Injector Outputs:
• 8 x Current controlled injector drivers
• High or Low impedance injector compatible
• Programable Peak Current – 0A – 8A
• Programable Hold Current – 0A – 2A
• All spare injector outputs can be used as generic DPO's with 1A Max output.
Ignition Outputs:
• 8 x Over current protected ignition drivers
• Max current 1A per driver
• All spare ignition outputs can be used as generic DPO's with 1A Max output
Digital Pulsed outputs:
• 5 x Over current protected low side pulsed outputs
• 1 x Dedicated engine control relay output which can control up to 6 relays simultaneously
Stepper Motor Control:
• 1 x 4 wire stepper motor control
• Can be configured as 4 x hi / low side outputs
• Max drive current 1A per output
• Max sink current 1A per output
• Over current protected
Knock Inputs:
• 2 x Dedicated Knock Inputs
• Supports piezo knock sensors
• Synchronised to engine position
Analogue Voltage Inputs:
• 10 x Analogue Voltage Inputs
• 2 of which are compatible with narrowband O2 sensors
• Switchable 1K Ohm Pull-up resistor for sensors
• Can tolerate up to 20V Max input voltage
• Supports up to 1.5KHz input frequency
Engine Position Inputs:
• 2 x Engine Position Inputs with extensive trigger type support
• Supports variable reluctor and digital inputs
Synchronised Pulsed Inputs:
• 4 x Synchronised Pulsed Inputs
• Supports digital inputs ONLY
• Supports variable reluctor and digital sensors
• Measures duty cycle, frequency or state of a signal
• 50KHz Max frequency
• Can tolerate up to 25V Max input voltage
Internal Map Sensor:
• 3 Bar Internal MAP Sensor rated up to 200kPa of Boost (2bar/29psi)
Communication:
• 2 x CAN Bus communication for Haltech CAN Expansion and OBDII
• 1 x USB Connection for Programming
Data Logging:
• On-board Data Logging
• Data logging,Up to 20 channels of logging,
• Fastest Sample Rate 50ms
• 1MB Internal Storage